Finding Your Writer's Voice:

A Guide to Creative Fiction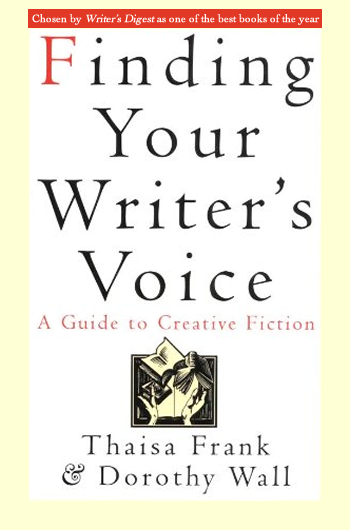 Order now: Buy online or
call toll-free 1-800-330-8477
$13.95
St. Martin's Press
ISBN 0-312-15128-4
***
"The best book on writing I've ever read."
~ Lailee van Dillen, Producer, "Authors and Critics," KCSM TV.
"A meaty little book....I came away from it aglow, in love (again!) with my quest as a writer."
~ The Writing Self
From the publisher:
"Voice" is what every writer wants to have, what every reader wants to enjoy. It's what lets you tell stories that are uniquely your own. But what is voice? How do you recognize yours?
In Finding Your Writer's Voice, Thaisa Frank and Dorothy Wall show that voice is not something mysterious: It's simply the way you, the writer, project yourself artistically. Finding Your Writer's Voice helps writers learn to develop a distinctive and vibrant voice. Mixing creative inspiration with practical advice about craft, the book includes chapters and exercises on:
Accessing your natural voice
Listening to the voice of childhood, public and private voices, and the colloquial voice
Working in first- and third-person, discovering a narrative persona
Voice as a springboard to characters
Using voice to discover the form of your story
A breakthrough approach to revision
Creating a life that supports voice
Consistently engaging and inspiring, this book is a wellspring of ideas for anyone who writes.
What reviewers say:
"A refreshingly novel approach to the subject of encouraging the beginning writer....Frank and Wall practice what they preach in their own well-wrought book, whose voice is frank and objective but warmly conversational. The many exercises are intriguing and imaginative."
~ Booklist

"Once in a while you come across a book that changes the way you think about the process of writing. It so elucidates its subject that you read it initially for its brilliant insights, then refer to it again and again for inspiration and practical advice. It's the kind of book that serves as a helpful aid in the work you do to give your stories their shape, form, and voice. Finding Your Writer's Voice: A Guide to Creative Fiction (St. Martin's Press) is just such a book."
~ Writers Connection

"Chosen by Writer's Digest as one of the best writing books published in 1994, this illuminating guide mixes creative inspiration with practical advice about the craft to help writers discover their most powerful writing tool: the voices that are uniquely their own."
~ Ingram

"Beginning would-be writers should begin with this encouraging title, which provides a collection of exercises designed to unlock creative techniques. From working in the first and third person to using voice to create characters...this provides an excellent key to developing a writer's perspective."
~ Midwest Book Review

"Every writer has a voice and a personal way of telling a story that reflects his or her life experience, sense of humor, and way of seeing the world. This book will help writers find their own voice--helping them move from raw outpourings to polished prose....The authors have focused on a writing skill that is very hard to teach, and they have done so successfully. The ideas they present are good, and the exercises should help writers get at the heart of their feelings and passions."
~ Library Journal
***
To purchase Finding Your Writer's Voice: A Guide to Creative Fiction,
Buy online or call toll-free: 1-800-330-8477.
***
Dorothy Wall also offers writing coach / writing consultant services »
Read Dorothy Wall's Tips for Writing Creative Nonfiction and Memoir »