Encounters with the Invisible:

Unseen Illness, Controversy, and Chronic Fatigue Syndrome
Reviews & Press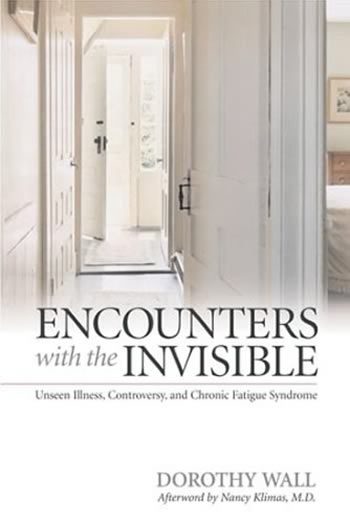 $15.95 Buy online
or call toll-free 1-800-826-8911
$22.50, cloth
Southern Methodist University Press
ISBN 0-87074-504-2
Available in Spanish / Español
***
"Dorothy Wall's riveting account of her experience of chronic fatigue syndrome (CFS) will provide companionship for those afflicted and serve as an eye-opener for those who are not."

~ Anne Hunsaker Hawkins, Director, The Doctors Kienle Center for Humanistic Medicine at Penn State's College of Medicine, and author of A Small Good Thing: Stories of Children with HIV and Those Who Care for Them
"Encounters with the Invisible is a beautifully written book and probably the best personal account of living with a chronic illness I have ever read. Wall is gifted with extraordinary descriptive abilities. You don't just read about her illness; you experience it with her. You will relate to it equally as well if you have fibromyalgia, Gulf War Syndrome, multiple chemical sensitivity, or any one of a number of chronic and controversial illnesses. If you're looking for a book that will offer you comfort, encouragement and hope, this is the book for you."
~ Karen Richards, About.com/chronicfatigue

"Dorothy Wall has written the best personal exploration of CFS I've ever read. CFS is not an easy disease to describe, but her ability to tease out its manifestations -- to make it come alive for the reader -- is stunning. This is a book that should resonate throughout the CFS community for years to come. We are very lucky to have it."
~ Cort Johnson, Phoenix-cfs.org

"There's something special about Encounters with the Invisible and the woman who wrote it. I've read a lot of touching personal stories written by people living with chronic illness, but this one is so much more. Encounters with the Invisible is an excellent, wonderfully written book. I can say without hesitation, it is the best personal account of chronic illness in general and CFS in particular I have ever read."
~Immunesupport.com

"Wall balances the chronicle of her struggle with a thorough investigation of the existing medical research on this seemingly difficult-to-categorize disease, an important addition to the literature on this controversial subject, one from which both patients and healthcare providers will benefit."
~ Library Journal (*Starred review)

"Encounters with the Invisible is unique in the literature on CFS and invisible illness, neither academic nor purely personal. It is beautifully written, a delicate interweave of personal story with scientific, political and historical analysis, combining grace and elegance of style with hard-nosed information and investigation. It goes down real easy, and it packs a punch...It matters enormously that we hear stories such as Wall's, know the individual, particular details of living with these complex and mysterious illnesses, learn what the afflicted know....The subjective accounts of patients must be taken into account as much as the objective measurements medical science relies on, if there are to be breakthroughs in understanding conditions such as these."
~ Health: An Interdisciplinary Journal for the Social Study of Health, Illness and Medicine

"In what is part autobiography and part investigative journalism, Wall presents a compelling look not only at the disease [CFS] but also at how illness can reveal larger understandings about modern medicine and how to find answers when science fails us."
~ Cleveland Plain Dealer

"I cannot imagine a more eloquent or honest depiction of what [CFS/ME] is like. [Wall] understands and describes all the bewilderment, denial, confusion, fear, anger, acceptance, frustration, above all, the constant unrelenting presence of the illness itself that all of us have experienced. Dorothy Wall is above all else a writer. The beauty of the words, description, language in this book took my breath away. If you have a friend, or a coworker, or a boss, or a family member, who doesn't believe this is a "real" and very serious disease, you could not find a better book for them to read. I was enchanted, and could not stop reading until I finished."
~ Mary Schweitzer, PhD, www.co-cure.org

"I immediately began to read [Encounters with the Invisible] and I was hooked. I devoured and saved as my own every word Wall used to describe what it is like to live with CFS. Like a beautiful tapestry, her story is woven with outstanding writing, description, and rich details. I strongly recommend that every neuroendocrineimmune patient buy this book. Let's make it a bestseller. Let's send an email to every CFS (and fibro, too, as the illness overlaps) friend you have. Show it to your family members, your neighbors, the book clubs at Borders, at Barnes & Noble."
~ Marly Silverman, Patient Alliance for Neuroendocrineimmune Disorders Organization for Research and Advocacy, Inc. (P.A.N.D.O.R.A.) www.pandoranet.info

" ...a poignant and insightful book. Eighteen chapters in all walk you through the world of chronic illness with a mixture of honesty and hope. A powerful narrative. It's no wonder the Library Journal gave it a starred review."
~ The CFIDS Chronicle, www.CFIDS.org

"An especially vivid picture of what it is like to suffer from this mysterious and demoralizing syndrome."
~ Psychiatric Services

"With a gift for narrative and exacting detail, [Wall] chronicles in Encounters with the Invisible her personal and family struggle, and the gradual change in public attitude toward CFS from skepticism to understanding and acceptance. Any history of the struggle to understand and legitimize CFS would make interesting reading by itself, but how much more powerful and compelling when told by a fine, intelligent writer who not only witnessed but personally lived the journey. Yes, it is a story of suffering, but [it] is also one of hope, courage and the dignity of the human spirit."
~ The Rockridge News

"What started out as an extension of her insights into an illness that had no name became an extraordinary literary gift and a historic work for chronic fatigue syndrome (CFS). With frank honesty and relentless passion, Wall's lyrical style interweaves a triplet of stories as only one who's walked the road can."
~ Margy Squires, Health Points, www.e-tyh.com
Advance praise
"A fascinating personal account and an intriguing view of the politics and science that influence how we perceive those with this illness. An important and vivid story."
~ Leonard A. Jason, Professor of Psychology at DePaul University, and Director of the Center for Community Research

"I want to shove a copy of this book into the hands of every person with CFS and their families and friends—as well as every doubter and detractor, those who have failed to grasp or chosen to ignore the gravity of the illness and the profound life-altering difficulties it creates."
~ Katrina Berne, clinical psychologist, author of Chronic Fatigue Syndrome, Fibromyalgia, and Other Invisible Disorders

"A heartfelt book about life-changing illness. Wall's portrait of the medical community's failures in responding to the mysteries of patient experience is a harrowing one."
~ Floyd Skloot, author of In the Shadow of Memory

"Wall's intimate disclosures, wise observations, and eloquent style shed light on an astonishing variety of topics—cultural, historical, anthropological, personal—and deliver a satisfying intellectual and emotional experience. The hopeful conclusion celebrates Ms. Wall's achievement—in writing the book and recovering sufficiently to embrace the simplest of life's pleasures."
~ K. Kimberly McCleary, President and CEO, CFIDS Association of America

"Wall is a tour guide, leading us through the mysterious grottos of illness. Seamless prose carries the reader along the twists and turns of the body's mutiny. This book is an eye-opener—for doctors, patients, and indeed all readers."
~ Danielle Ofri, MD, Editor-in-Chief of the Bellevue Literary Review, and author of Incidental Findings: Lessons from My Patients in the Art of Medicine

"Wall offers uncommon insight about what suffering can mean when pain and fatigue are overwhelming and time takes on disquieting dimensions. She moves her story beyond the confines of personal experience and poses searching questions for professional practice."
~ Kathy Charmaz, sociologist, author of Good Days, Bad Days: The Self in Chronic Illness and Time

"Bravo! Dorothy Wall beings the keen eye, compassionate honesty, and engaged detachment of a reliable witness to her exploration of living with an `invisible' illness in a society that relies on test results to define disease and legitimize suffering. For those who live with a chronic illness—or love or treat one who does—Wall's portrayal of the 'deliberate and painstaking' work of rebuilding a life is worth its weight in gold."
~ Kat Duff, author of The Alchemy of Illness

"Listening closely to this tale, medical science and practice might approach new hypotheses about causes and cures, instead of blaming the victim when the biomedical gaze fails."
~ Kirsti Malterud, MD, University of Bergen, Norway
***
To purchase Encounters with the Invisible: Unseen Illness, Controversy, and Chronic Fatigue Syndrome
$15.95 Buy online or call toll-free 1-800-826-8911.
Available in Spanish / Español

***
Press packet: publicity kit pdf (299kb download) Spanish publicity / Publicidad en Español (500kb)
Cover photo: "Hartwig House, Truro, 1976" by Joel Meyerowitz